Jumat, 27 Desember 2019 18:31:31 WIB
Film
Sutradara : Raj Mehta
Produksi : Zee Studios, Dharma Production, Cape of Good Films
Skenario : Jyoti Kapoor, Raj Mehta, Rishabh Sharma
Cerita : Jyoti Kapoor
Pemain : Akshay Kumar, Kareena Kapoor, Diljit Dosanjh, Kiara Advani
Rilis : 27 Desember 2019
Bolly.id - Akshay Kumar sparks off his keen effort to educate viewers on social issues. Many parents these days have difficulties in conceiving kids. Many are bound to their careers that sometimes it becomes a little too late.
Good Newwz is a story of two women who are longing to conceive children. Deepti (kareena Kapoor) and Monika (Kiara Advani), both of extreme personalities, meet at the clinic for an IVF treatment, holding the same surnames.
The movie starts when Deepti and Monika are informed on the cost they had to pay for having the same surnames.
Raj Mehta's intricate mixture of a rollercoaster of comic and dramatic scenes brings the film into an entertaining height. He manages to give an emotional nudge while implementing dialogues on social issues.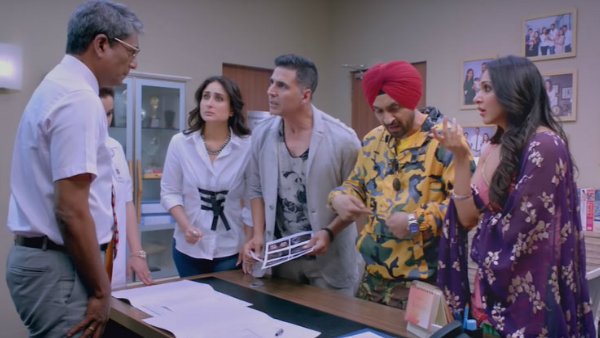 Kareena Kapoor gives an amazing performance on her character as an elite professional who strives to have a child in her later years. Akshay Kumar playing the role of Varun Batra, plays a convincing role as Deepti's husband. He manages to make the audience cry on the latter part of the movie. Diljit Dosanjh who plays Honey Batra pops up the film with his comic acting as a typical Punjabi dude who is loud and frank. Kiara Advani who plays a not so smart Monika made the audience laugh with her naïve dialogues.
Good Newwz is good news indeed as it is a worthwhile
watch. Bring a few tissue papers for the drama scenes!
(Aruna Harjani)